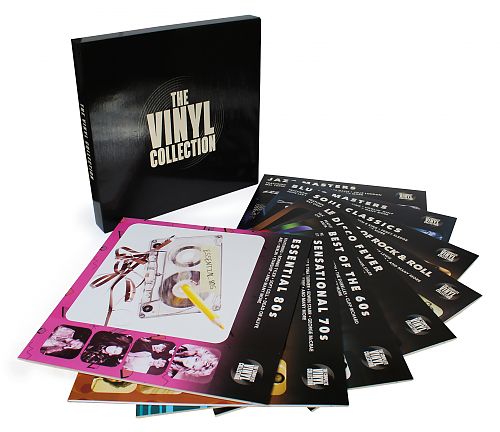 The Perfect Vinyl Collection (Deluxe-Ausgabe)
SKU# 421375

339 Min. Bellevue Entertainment. 2019. 8 LPs.

Rock-, Blues-, Soul-, Rockabilly- und Jazz-Geschichte auf Vinyl gebannt. Eine reichhaltige Sammlung (111 Songs) an Hits und Meilensteinen aus über drei Jahrzehnten. Wertige Box enthält folgende Scheiben: LP 1-Essential 80s (BonnyTyler, Kim Carnes, Irene Cara u.a.), LP 2-Sentinantal 70s (Mungo Jerry, Ike & Tina Turner, Gibson Brothers u.a.), LP 3-Best of 60s (Elvis Presley, Bob Dylan, Roy Orbison u.a.), LP 4-Disco Fever (Gloria Gayner, Tavares u.a.), LP5 -Soul Classics (Ray Charles, Al Jarreau u.a.), LP 6-Jazz Masters (Ella Fitzgerald, Sarah Vaughan u.a.), LP 7-Blues Masters (John Lee Hooker, Muddy Waters u.a.), LP 8-Legends of Rock & Roll (Jerry Lee Lewis, Chuck Berry u.v.a.)
Tracklist
Die Anzahl der CDs in der Tracklist stimmen nicht immer mit der tatsächlichen Anzahl überein. Teilweise sehen Sie hier lediglich eine Auflistung der Hörproben.
8 LPs, 111 Tracks, Gesamtlänge: 338:51

LP 1
01. Total Eclipse Of The Heart - Tyler, Bonnie (3:53)
02. Take My Breath Away - Berlin (3:53)
03. Boys (Summertime Love) - Sabrina (3:57)
04. Tainted Love - Soft Cell (3:15)
05. We Built This City - Starship (3:58)
06. I Think We're Alone Now - Tiffany (3:47)
07. You Spin Me Round - Dead Or Alive (3:21)
08. Bette Davis Eyes - Carnes, Kim (3:41)
09. Flashdanceà What A Feeling - Cara, Irene (4:05)
10. Maniac - Sembello, Michael (3:55)
11. Walking On Sunshine - Katrina (3:41)
12. The Look Of Love - ABC (3:30)

LP 2
01. In The Summertime - Mungo Jerry (3:25)
02. Nutbush City Limits - Turner, Ike & Tina (3:02)
03. Love Grows - Lighthouse, Edison (2:31)
04. Band Of Gold - Payne, Freda (3:02)
05. Young Hearts Run Free - Staton, Candi (3:51)
06. H.A.P.P.Y. Radio - Starr, Edwin (3:26)
07. Rock Your Baby - McCrae, George (3:18)
08. Me & Mrs. Jones - Paul, Billie (4:53)
09. Feel The Need In Me - Detroit Emeralds (3:16)
10. The Night Chicago Died - Paper Lace (3:19)
11. Que Sera Mi Vida - Gibson Brothers (3:49)
12. Native New Yorker - Odyssey (3:44)

LP 3
01. It's Now Or Never - Presley, Elvis (3:16)
02. House Of The Risin' Sun - Dylan, Bob (5:15)
03. Cathy's Clown - Everly Brothers (2:26)
04. The Loco-Motion - Little Eva (2:28)
05. Walkin' Back To Happiness - Shapiro, Helen (2:30)
06. Stranger On The Shore - Bilk, Acker Mr. (2:52)
07. Will You Still Love Me Tomorrow? - Shirelles, The (2:39)
08. Only The Lonely - Orbison, Roy (2:27)
09. Runaway - Shannon, Del (2:21)
10. Let's Twist Again - Checker, Chubby (2:19)
11. The Wanderer - Dion (2:47)
12. Wild Thing - Troggs (2:37)
13. Do You Want To Dance - Richard, Cliff & The Shadows (2:13)
14. Breakin' Up Is Hard To Do - Sedaka, Neil (2:20)

LP 4
01. Ring My Bell - Ward, Anita (3:30)
02. Going Back To My Roots - Odyssey (3:56)
03. More, More, More - True, Andrea (3:04)
04. Disco Inferno - Trammps (3:38)
05. Cuba - Gibson Brothers (3:50)
06. It Only Takes A Minute - Tavares (3:25)
07. I Will Survive - Gaynor, Gloria (4:55)
08. Boogie Nights - Heatwave (3:40)
09. Contact - Starr, Edwin (3:19)
10. Right Back Where We Started From - Nightingale, Maxine (3:10)
11. Now Is The Time - James, Jimmy & The Vagabonds (3:39)
12. Ms. Grace - Tymes (3:19)

LP 5
01. When A Man Loves A Woman - Sledge, Percy (2:53)
02. I Got A Woman - Charles, Ray (2:48)
03. You Send Me - Cooke, Sam (2:43)
04. Save The Last Dance For Me - Drifters (2:30)
05. Duke of Earl - Chandler, Gene (2:19)
06. Ain't No Sunshine - Jarreau, Al (1:56)
07. Release Me - Phillips, Little Esther (3:19)
08. You Got What It Takes - Johnson, Marv (2:51)
09. Stand By Me - King, Ben E. (2:54)
10. Shout - Part 1 - Isley Brothers (2:16)
11. Ready Or Not Here I Come (Can't Hide From Love) - Delfonics, The (1:57)
12. Please, Please, Please - Brown, James (2:49)
13. Do You Love Me - Contours, The (2:55)
14. I Know (You Don't Love Me No More) - George, Barbara (2:24)
15. Kiss And Say Goodbye - Manhattans (4:08)
16. Always & Forever - Heatwave (4:47)

LP 6
01. Love Me or Leave Me - Fitzgerald, Ella (2:47)
02. Black Coffee - Lee, Peggy (3:05)
03. Cry Me A River - London, Julie (2:53)
04. Stormy Weather - Vaughan, Sarah (3:27)
05. Everytime We Say Goodbye - Horne, Lena (2:29)
06. Round Midnight - Davis, Miles (5:22)
07. I Got It Bad (And That Ain't Good) - Simone, Nina (4:06)
08. Your Cheating Heart - Armstrong, Louis (2:44)
09. Perdido - Washington, Dina (3:23)
10. Blue Gardenia - Merrill, Helen (3:20)
11. Manhattan - Ross, Annie (2:17)
12. Mountain Greenery - Tormé, Mel (2:26)
13. Naima - Coltrane, John (4:21)

LP 7
01. Boom Boom - Hooker, John Lee (2:33)
02. Smokestack Lighting - Wolf, Howlin' (2:09)
03. Ain't That Lovin' You Baby - Reed, Jimmy (2:16)
04. Every Day I Have The Blues - King, B. B. (2:49)
05. Key To The Highway - Broonzy, Big Bill (2:15)
06. I'm Tore Down - King, Freddie (2:38)
07. Fattening Frogs For Snakes - Williamson, Sonny Boy (2:22)
08. Misery Blues - Dupree, Champion Jack (3:08)
09. Hoochie Coochie Man - Waters, Muddy (2:52)
10. Dust My Blues - James, Elmore (3:10)
11. Ain't Nobody's Business - Witherspoon, Jimmy (2:57)
12. My Babe - Walter, Little (2:42)
13. Blues 'Round My Door - Johnson, Lonnie (3:36)
14. I Can't Quit You Baby - Rush, Otis (3:07)
15. Dyna-Flow - King, Albert (2:54)

LP 8
01. Rock Around The Clock - Haley, Bill & His Comets (2:12)
02. Great Balls Of Fire - Lewis, Jerry Lee (1:52)
03. Blue Suede Shoes - Perkins, Carl (2:19)
04. Summertime Blues - Cochran, Eddie (1:57)
05. Chantilly Lace - Big Popper (2:30)
06. Let The Good Times Roll - Shirley & Lee (2:22)
07. Bo Diddley - Diddley, Bo (2:30)
08. Rockin' Pneumonia And The Boogie Woogie Flu - Smith, Hueu Piano & The Clowns (2:20)
09. Who Do Fools Fall In Love - Lymon, Frankie & The Teenagers (2:21)
10. Jailhouse Rock - Presley, Elvis (2:26)
11. Johnny B Goode - Berry, Chuck (2:40)
12. Long Tall Sally - Richard, Little (2:12)
13. Be Bop A Lula - Vincent, Gene & The Blue Caps (2:36)
14. Lawdy Miss Clawdy - Price, Lloyd (2:31)
15. Shake, Rattle & Roll - Turner, Joe (3:03)
16. Ain't That A Shame - Domino, Fats (2:27)
17. At The Hop - Danny & The Juniours (2:29)

Kunden, die diesen Artikel gekauft haben, kauften auch folgende