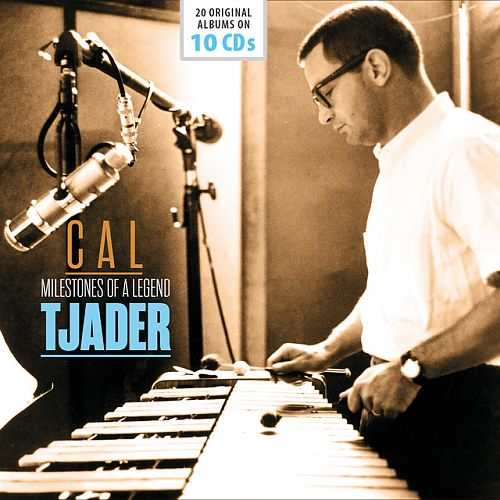 Cal Tjader
Milestones of a Legend-20 Original Albums
SKU# 512020

Documents. 2017. 10 CDs.

Box vereint 19 Originalalben eines der Pioniere des Latin Jazz und eines der wichtigsten Musiker der West Coat Jazz Szene in Kalifornien. Mit Weggefährten wie Stan Getz, Dave Brubeck, Willie Bobo, Mongo Santamaria u.a. Mit den Alben Tjader plays Mambo, Mambo with Tjader, The dave Brubeck Trio with Cal Tjader, West Side Story u.a. "Cal Tjaders Spiel war von großer Melodik und Tiefgang bei vollendetem Timing gekennzeichnet. Seine außergewöhnliche Virtuosität geriet aber niemals zum Selbstzweck. Wohl kaum ein Vibraphonist außer Milt Jackson konnte dermaßen gefühlvolle Balladen spielen wie CT. Er genoss große Anerkennung und Verehrung unter Kollegen und gilt heute zurecht als einer der Überväter des Latin-Jazz." (Audio).
Documents. 2017. 10 CDs.
Tracklist
Die Anzahl der CDs in der Tracklist stimmen nicht immer mit der tatsächlichen Anzahl überein. Teilweise sehen Sie hier lediglich eine Auflistung der Hörproben.
10 CDs, 198 Tracks, Gesamtlänge: 745:19

CD 1
01. Moten swing - Tjader, Cal (4:02)
02. I've never been in love before - Tjader, Cal (2:32)
03. There will never be another you - Tjader, Cal (5:05)
04. How about you - Tjader, Cal (3:04)
05. Jeepers Creepers - Tjader, Cal (3:17)
06. A minor goof - Tjader, Cal (3:57)
07. My one and only love - Tjader, Cal (2:47)
08. Imagination - Tjader, Cal (3:18)
09. I'll know - Tjader, Cal (2:58)
10. Brew's blues - Tjader, Cal (3:32)
11. Yesterdays - Tjader, Cal (3:23)
12. Out of nowhere - Tjader, Cal (3:02)
13. Fascinatin' rythm - Tjader, Cal (2:45)
14. Guarachi guaro - Tjader, Cal (2:59)
15. The lady is a tramp - Tjader, Cal (2:53)
16. It ain't necessarily so - Tjader, Cal (2:05)
17. Have you met Miss Jones? - Tjader, Cal (3:04)
18. For heaven's sake - Tjader, Cal (2:57)
19. Mambo macumba - Tjader, Cal (2:20)
20. East of the sun - Tjader, Cal (3:02)
21. Bei mir bist du schoen - Tjader, Cal (3:07)
22. I concentrate on you - Tjader, Cal (2:00)

CD 2
01. Mamblues - Tjader, Cal (2:24)
02. Midnight sun - Tjader, Cal (3:53)
03. Sonny boy - Tjader, Cal (2:34)
04. Cherry - Tjader, Cal (3:22)
05. I'll remember April - Tjader, Cal (3:17)
06. This can't be love - Tjader, Cal (3:03)
07. Tenderly - Tjader, Cal (3:46)
08. Dearly beloved - Tjader, Cal (3:54)
09. Chloe - Tjader, Cal (2:24)
10. Lucero - Tjader, Cal (3:14)
11. Bye bye blues - Tjader, Cal (2:56)
12. Autumn leaves - Tjader, Cal (2:50)
13. You stepped out of a dream - Brubeck, Dave Trio, The / Tjader, Cal (2:59)
14. Lullaby in rythm - Brubeck, Dave Trio, The / Tjader, Cal (3:33)
15. Singin' in the rain - Brubeck, Dave Trio, The / Tjader, Cal (2:39)
16. I'll remember April - Brubeck, Dave Trio, The / Tjader, Cal (3:25)
17. Body and soul - Brubeck, Dave Trio, The / Tjader, Cal (3:47)
18. Let's fall in love - Brubeck, Dave Trio, The / Tjader, Cal (2:44)
19. LAura - Brubeck, Dave Trio, The / Tjader, Cal (2:48)
20. Indiana - Brubeck, Dave Trio, The / Tjader, Cal (2:37)
21. Blue moon - Brubeck, Dave Trio, The / Tjader, Cal (3:01)
22. Tea for two - Brubeck, Dave Trio, The / Tjader, Cal (2:50)
23. Undecided - Brubeck, Dave Trio, The / Tjader, Cal (2:33)
24. That old black magic - Brubeck, Dave Trio, The / Tjader, Cal (2:41)

CD 3
01. Battle hymn of the republic - Tjader, Cal Quartet (3:18)
02. It never entered my mind - Tjader, Cal Quartet (3:38)
03. A light groove - Tjader, Cal Quartet (5:12)
04. The night we called it a day - Tjader, Cal Quartet (3:07)
05. Fancy Bea - Tjader, Cal Quartet (3:42)
06. A fitfth for Frank - Tjader, Cal Quartet (4:50)
07. For all we know - Tjader, Cal Quartet (4:44)
08. Miss Wiggins - Tjader, Cal Quartet (5:58)
09. Our love is here to stay - Tjader, Cal Quartet (5:30)
10. September song - Brubeck / Tjader / Brubeck, Dave Trio, The (3:29)
11. Sweet Georgia Brown - Brubeck / Tjader / Brubeck, Dave Trio, The (2:46)
12. Spring is here - Brubeck / Tjader / Brubeck, Dave Trio, The (2:31)
13. 'S wonderful - Brubeck / Tjader / Brubeck, Dave Trio, The (2:44)
14. Perfidia - Brubeck / Tjader / Brubeck, Dave Trio, The (2:22)
15. Avalon - Brubeck / Tjader / Brubeck, Dave Trio, The (2:09)
16. I didn't know what time it was - Brubeck / Tjader / Brubeck, Dave Trio, The (2:36)
17. Always - Brubeck / Tjader / Brubeck, Dave Trio, The (2:51)
18. How high the moon - Brubeck / Tjader / Brubeck, Dave Trio, The (3:07)
19. Squeeze me - Brubeck / Tjader / Brubeck, Dave Trio, The (3:47)
20. Heart and soul - Brubeck / Tjader / Brubeck, Dave Trio, The (2:22)
21. Too marvelous for words - Brubeck / Tjader / Brubeck, Dave Trio, The (3:11)

CD 4
01. Invitation - Tjader, Cal (4:12)
02. Lover come back to me - Tjader, Cal (3:41)
03. September song - Tjader, Cal (2:58)
04. Will you still be mine - Tjader, Cal (3:28)
05. I love Paris - Tjader, Cal (5:52)
06. Tropicana - Tjader, Cal (3:14)
07. Moonlight in Vermont - Tjader, Cal (2:55)
08. Bye bye blues - Tjader, Cal (3:37)
09. Manuel's mambo - Tjader, Cal (3:16)
10. Allt the things you are - Tjader, Cal (4:09)
11. Blues from Havana - Tjader, Cal (3:05)
12. Mi China - Tjader, Cal (2:17)
13. Close your eyes - Tjader, Cal (3:11)
14. Mambo at the "M" - Tjader, Cal (4:40)
15. Contigo - Tjader, Cal (2:40)
16. Bonita - Tjader, Cal (2:29)
17. The lady is a tramp - Tjader, Cal (4:33)
18. Black orchid - Tjader, Cal (3:24)
19. Happiness is a song called Joe - Tjader, Cal (3:45)
20. I've waited so long - Tjader, Cal (2:09)
21. Out of nowhere - Tjader, Cal (3:26)
22. Guajira at the blackhawk - Tjader, Cal (5:18)

CD 5
01. Running out - Tjader, Cal (3:23)
02. Raccoon straits - Tjader, Cal (2:27)
03. The last luff - Tjader, Cal (3:40)
04. Sigmund Stern groove - Tjader, Cal (4:39)
05. Coit tower - Tjader, Cal (1:37)
06. Triple t blues - Tjader, Cal (6:00)
07. Union square - Tjader, Cal (4:21)
08. Skyline waltz - Tjader, Cal (3:45)
09. Viva cepeda - Tjader, Cal (3:43)
10. Grant ave. suite - Tjader, Cal (7:36)
11. Prologue - Jet song - Tjader, Cal (7:40)
12. Something's coming - Tjader, Cal (2:42)
13. Maria interlude - Tjader, Cal (1:29)
14. Maria - Tjader, Cal (2:47)
15. Tonight - Tjader, Cal (2:07)
16. America - Tjader, Cal (3:59)
17. Cool - Tjader, Cal (3:50)
18. One hand, one heart - Tjader, Cal (1:50)
19. I feel pretty - somewhere - Tjader, Cal (6:41)

CD 6
01. Doxie - Tjader, Cal (8:49)
02. Afro blue - Tjader, Cal (6:33)
03. Laura - Tjader, Cal (5:20)
04. Walkin' with Wally - Tjader, Cal (10:06)
05. We'll be together again - Tjader, Cal (5:12)
06. 'Round about midnight - Tjader, Cal (6:08)
07. Love me or leave me - Tjader, Cal (5:57)
08. Tu crees que - Tjader, Cal (5:29)
09. S. s. groove - Tjader, Cal (5:19)
10. Night in Tunisia - Tjader, Cal (6:54)
11. Bess, you is my woman now - Tjader, Cal (4:12)
12. Lover come back to me - Tjader, Cal (3:12)
13. Tumbao - Tjader, Cal (4:53)

CD 7
01. S. s. groove - Tjader, Cal (4:48)
02. Goodbye - Tjader, Cal (4:27)
03. Moment in Madrid - Tjader, Cal (5:32)
04. Rezo - Tjader, Cal (6:01)
05. Love for sale - Tjader, Cal (4:47)
06. Then I'll be tired of you - Tjader, Cal (4:50)
07. Theme for Duke - Tjader, Cal (2:52)
08. Cuban fantasy - Tjader, Cal (6:38)
09. Manila - Tjader, Cal (4:59)
10. Key Largo - Tjader, Cal (3:37)
11. Tumbao - Tjader, Cal (6:55)
12. Bludan - Tjader, Cal (3:10)
13. Chispita - Tjader, Cal (3:29)
14. September song - Tjader, Cal (3:49)
15. Cal's pal - Tjader, Cal (3:39)
16. Para-ti - Tjader, Cal (3:31)
17. Mamblues - Tjader, Cal (4:43)

CD 8
01. Mighty rumblin' blues - Tjader, Cal / Stallings, Mary (3:47)
02. It ain't necessarily so - Tjader, Cal / Stallings, Mary (2:29)
03. God bless the child - Tjader, Cal / Stallings, Mary (3:16)
04. Just squeeze me - Tjader, Cal / Stallings, Mary (2:35)
05. I didn't know about you - Tjader, Cal / Stallings, Mary (3:49)
06. I'm beginning to see the light - Tjader, Cal / Stallings, Mary (3:06)
07. Goodbye - Tjader, Cal / Stallings, Mary (2:39)
08. Why don't you do right? - Tjader, Cal / Stallings, Mary (2:36)
09. Huneysuckle rose - Tjader, Cal / Stallings, Mary (2:08)
10. I'm just a lucky so and so - Tjader, Cal / Stallings, Mary (2:29)
11. Ain't misbehavin' (I'm saying my love for you) - Tjader, Cal / Stallings, Mary (3:08)
12. Mr. Blues - Tjader, Cal / Stallings, Mary (2:43)
13. I've grown accustomed to her face - Tjader, Cal / Getz, Stan Sextet, The (3:58)
14. For all we know - Tjader, Cal / Getz, Stan Sextet, The (5:44)
15. Ginza - Tjader, Cal / Getz, Stan Sextet, The (10:59)
16. Crow's nest - Tjader, Cal / Getz, Stan Sextet, The (8:20)
17. Liz Anne - Tjader, Cal / Getz, Stan Sextet, The (3:47)
18. Big bear - Tjader, Cal / Getz, Stan Sextet, The (4:34)
19. Mr Buddy - Tjader, Cal / Getz, Stan Sextet, The (5:14)

CD 9
01. Between the devil and the deep blue sea - Tjader, Cal (3:08)
02. Ill wind (You're blowing me no good) - Tjader, Cal (4:25)
03. When the sun comes out - Tjader, Cal (2:42)
04. Happiness is a thing called Joe - Tjader, Cal (3:27)
05. I gotta right to sing the blues - Tjader, Cal (3:44)
06. Come rain or come shine - Tjader, Cal (3:52)
07. Over the rainbow - Tjader, Cal (3:52)
08. Out of this world - Tjader, Cal (2:54)
09. Last night when we were young - Tjader, Cal (3:10)
10. The man that got away - Tjader, Cal (4:02)
11. Blues in the night - Tjader, Cal (3:33)
12. Thanks for the memory - Tjader, Cal / O'Day, Anita (2:49)
13. It shouldn't happen to a dream - Tjader, Cal / O'Day, Anita (3:02)
14. Just in time - Tjader, Cal / O'Day, Anita (2:50)
15. Under a blanket of blue - Tjader, Cal / O'Day, Anita (2:25)
16. That's your red wagon - Tjader, Cal / O'Day, Anita (2:52)
17. Peel me a grape - Tjader, Cal / O'Day, Anita (3:05)
18. An occasional man - Tjader, Cal / O'Day, Anita (2:30)
19. The party's over - Tjader, Cal / O'Day, Anita (2:23)
20. I believe in you - Tjader, Cal / O'Day, Anita (2:26)
21. Mr. Sandman - Tjader, Cal / O'Day, Anita (1:57)
22. Spring will be a little late this year - Tjader, Cal / O'Day, Anita (3:26)
23. I'm not supposed to be blue blues - Tjader, Cal / O'Day, Anita (2:33)

CD 10
01. Mabo terrifico - Tjader, Cal (4:20)
02. A night in Tunisia - Tjader, Cal (8:33)
03. The continental - Tjader, Cal (4:44)
04. Afro blue - Tjader, Cal (6:32)
05. Cuban fantasy - Tjader, Cal (6:29)
06. Rezo - Tjader, Cal (5:54)
07. Vai querer - Tjader, Cal (3:01)
08. Qué tristeza - Tjader, Cal (2:47)
09. Meditaçao - Tjader, Cal (3:30)
10. Soñé - Tjader, Cal (3:07)
11. Se é tarde, me perdoa - Tjader, Cal (2:46)
12. Nao diga nada - Tjader, Cal (2:44)
13. Silenciosa - Tjader, Cal (3:24)
14. Elizete - Tjader, Cal (2:28)
15. Imagen - Tjader, Cal (2:39)
16. Tentaçao do inconveniente - Tjader, Cal (2:30)
17. Preciosa - Tjader, Cal (2:38)
18. Chôro e batuque - Tjader, Cal (5:02)

Kunden, die diesen Artikel gekauft haben, kauften auch folgende