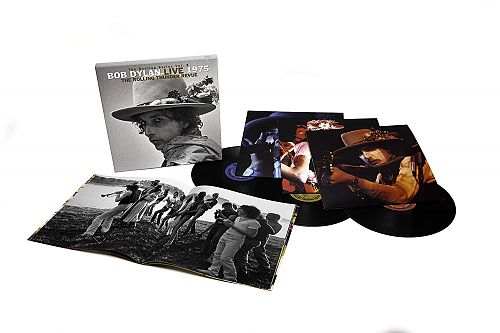 Bob Dylan
The Bootleg Series Vol. 5: Bob Dylan Live 1975, The Rolling Thunder Revue
SKU# 421316

Columbia. 2019/1975. 3 LPs.

Mit 22 Highlights der legendären Rolling Thunder Revue Tour, die seit ihrer Erstveröffentlichung 2002 zu den Raritäten auf Vinyl zählt. Angeblich nach einem Medizinmann benannt, vereinten die Konzerte bekannte Musiker wie Bob Dylan, Joan Baez, Kinky Friedman u.a. für eine atemberaubende Show, die ihrem Namen alle Ehre machte. (Mr. tambourine man, Simple twist of fate, Blowin' in the wind u.a.) "Eine der legendärsten Tourneen der Rockgeschichte." (Wiener Zeitung). Plus: 64-seitiges Booklet.
Tracklist
Die Anzahl der CDs in der Tracklist stimmen nicht immer mit der tatsächlichen Anzahl überein. Teilweise sehen Sie hier lediglich eine Auflistung der Hörproben.
3 LPs, 22 Tracks, Gesamtlänge: 101:49

LP 1
01. Tonight I'll Be Staying Here with You - Live at Montreal Forum, Montreal, Quebec - December 1975 - Dylan, Bob / Dylan, Bob / Neuwirth, Bobby / Soles, Steven / Blakely, Ronee / Elliott, Ramblin' Jack / Ginsberg, Allen / (3:55)
02. It Ain't Me, Babe - Live at Harvard Square Theatre, Cambridge, MA - November 1975 - Neuwirth, Bobby / Soles, Steven / Blakely, Ronee / Dylan, Bob (5:25)
03. A Hard Rain's A-Gonna Fall - Live at Montreal Forum, Montreal, Quebec - December 1975 - Dylan, Bob / Dylan, Bob / Neuwirth, Bobby / Soles, Steven / Blakely, Ronee / Elliott, Ramblin' Jack / Ginsberg, Allen / (5:16)
04. The Lonesome Death of Hattie Carroll - Live at Boston Music Hall, Boston, MA - November 21, 1975 - Evening - Dylan, Bob / Dylan, Bob / Neuwirth, Bobby / Soles, Steven / Blakely, Ronee / Elliott, Ramblin' Jack / Ginsberg, Allen / (5:25)
05. Romance in Durango - Live at Harvard Square Theatre, Cambridge, MA - November 1975 - Neuwirth, Bobby / Soles, Steven / Blakely, Ronee / Dylan, Bob (5:22)
06. Isis - Live at Boston Music Hall, Boston, MA - November 21, 1975 - Evening - Dylan, Bob / Dylan, Bob / Neuwirth, Bobby / Soles, Steven / Blakely, Ronee / Elliott, Ramblin' Jack / Ginsberg, Allen / (5:11)

LP 2
01. Mr. Tambourine Man - Live at Boston Music Hall, Boston, MA - November 21, 1975 - Afternoon - Neuwirth, Bobby / Soles, Steven / Blakely, Ronee / Dylan, Bob (5:39)
02. Simple Twist of Fate - Live at Harvard Square Theatre, Cambridge, MA - November 1975 - Baez, Joan / Neuwirth, Bobby / McGuinn, Roger / Soles, Steven / Blakely, Ronee / Dylan, Bob (4:16)
03. Blowin' in the Wind - Live at Boston Music Hall, Boston, MA - November 21, 1975 - Evening - Dylan, Bob / Dylan, Bob / Baez, Joan / Neuwirth, Bobby / Soles, Steven / Blakely, Ronee / Elliott, Ramblin' Jack / Ginsb (2:43)
04. Mama, You Been on My Mind - Live at Harvard Square Theatre, Cambridge, MA - November 1975 - Dylan, Bob / Baez, Joan / Neuwirth, Bobby / McGuinn, Roger / Soles, Steven / Blakely, Ronee (2:59)
05. I Shall Be Released - Live at Boston Music Hall, Boston, MA - November 1975 - Dylan, Bob / Baez, Joan / Neuwirth, Bobby / McGuinn, Roger / Soles, Steven / Blakely, Ronee (4:49)
06. It's All over Now, Baby Blue - Live at Montreal Forum, Montreal, Quebec - December 1975 - Dylan, Bob / Dylan, Bob / Neuwirth, Bobby / Soles, Steven / Blakely, Ronee / Elliott, Ramblin' Jack / Ginsberg, Allen / (4:33)
07. Love Minus Zero / No Limit - Live at Montreal Forum, Montreal, Quebec - December 1975 - Baez, Joan / Neuwirth, Bobby / McGuinn, Roger / Soles, Steven / Blakely, Ronee / Dylan, Bob (3:13)
08. Tangled up in Blue - Live at Boston Music Hall, Boston, MA - November 21, 1975 - Evening - Dylan, Bob / Dylan, Bob / Neuwirth, Bobby / Soles, Steven / Blakely, Ronee / Elliott, Ramblin' Jack / Ginsberg, Allen / (4:41)

LP 3
01. The Water Is Wide - Live at Boston Music Hall, Boston, MA - November 21, 1975 - Evening - Dylan, Bob / Dylan, Bob / Baez, Joan / Neuwirth, Bobby / Soles, Steven / Blakely, Ronee / Elliott, Ramblin' Jack / Ginsb (5:16)
02. It Takes a Lot to Laugh, It Takes a Train to Cry - Live at Boston Music Hall, Boston, MA - November 21, 1975 - Evening - Dylan, Bob / Dylan, Bob / Neuwirth, Bobby / Soles, Steven / Blakely, Ronee / Elliott, Ramblin' Jack / Ginsberg, Allen / (3:12)
03. Oh, Sister - Live at Boston Music Hall, Boston, MA - November 21, 1975 - Evening - Dylan, Bob / Dylan, Bob / Neuwirth, Bobby / Soles, Steven / Blakely, Ronee / Elliott, Ramblin' Jack / Ginsberg, Allen / (4:04)
04. Hurricane - Live at Memorial Auditorium, Worcester, MA - November 1975 - Neuwirth, Bobby / Soles, Steven / Blakely, Ronee / Dylan, Bob (8:15)
05. One More Cup of Coffee - Live at Boston Music Hall, Boston, MA - November 21, 1975 - Evening - Dylan, Bob / Dylan, Bob / Neuwirth, Bobby / Soles, Steven / Blakely, Ronee / Elliott, Ramblin' Jack / Ginsberg, Allen / (4:14)
06. Sara - Live at Boston Music Hall, Boston, MA - November 21, 1975 - Afternoon - Baez, Joan / Neuwirth, Bobby / McGuinn, Roger / Soles, Steven / Blakely, Ronee / Dylan, Bob (4:29)
07. Just Like a Woman - Live at Boston Music Hall, Boston, MA - November 21, 1975 - Evening - Dylan, Bob / Dylan, Bob / Neuwirth, Bobby / Soles, Steven / Blakely, Ronee / Elliott, Ramblin' Jack / Ginsberg, Allen / (4:31)
08. Knockin' on Heaven's Door - Live at Harvard Square Theatre, Cambridge, MA - November 1975 - Baez, Joan / Neuwirth, Bobby / McGuinn, Roger / Soles, Steven / Blakely, Ronee / Dylan, Bob (4:21)

Kunden, die diesen Artikel gekauft haben, kauften auch folgende